Fifth-grade student named among 10 finalists of national reading, history contest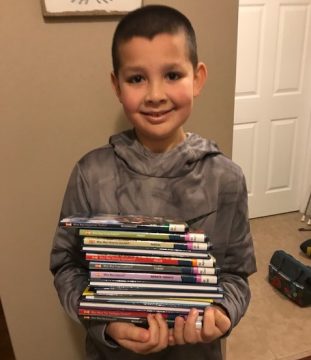 It wasn't a surprise to many students and teachers at Marion-Walker Elementary School when they heard Brady Wynkoop made it to the national final of a reading and history contest that will eventually take him on an all-expense paid trip to New York City. It makes him among just 10 student finalists of more than 25,000 participants – and with the chance to with a $10,000 scholarship.
After all, the fifth-grade student is a lover of reading and a little bit of a history buff.
"Brady is a voracious reader with so much passion and curiosity for learning, and I'm not at all surprised that his hard work and dedication to this endeavor has paid off," fifth-grade teacher Colleen DeFonzo said. "I think that he will do very well as he moves on to the next level of competition, and I'm so proud of him for making it so far."
In December, Brady participated in a History Bee through the "Who was..?" reading series by Grosset and Dunlap publishing house – a branch of Penguin Random House publishing company. The books, sometimes also titled "Who is..?" "Where is..?" "What is.." and "What is the Story of..?" are aimed at providing youth readers with history-themed fun and comprehensive information about a topic.
When Brady heard about the contest in the fall while perusing the "Who was..?" section at Barnes and Nobel, he brought the idea to school librarian Danielle Mock who set up class and schoolwide competitions. To compete, students must have read books in the "Who was..?" series and answer questions about facts in the books.
"I thought it would be a great thing to bring to our school as so many of the students love the 'Who was..?' book series, so I signed our school up to participate in the bee," Mock said.
Organized similar to a game show, the competition at Marion-Walker followed a tiered system.
Up to 10 students from each class in third through fifth grades signed up and competed against their classmates in two rounds of questions. The first round was multiple choice, followed by an open-ended writing section.
The top two students from each class then moved on to the schoolwide bee to compete against each other.
The winner of the bee then took a proctored exam that was sent to Scholastic.
Brady was named the school winner, and by April 8, he and his family were notified he was among the top 10 students from across the country to move on to the national contest.
"I was honestly shocked and I had a loss for words, but it was a really good feeling," Brady said, also adding that he read nearly all the books in the series. Because he loves sports, particularly basketball, his favorite so far is the one about Michael Jordan.
The national competition was originally scheduled for May, but has been postponed to the fall due to COVID-19 pandemic. The national contest will be hosted by Jeff Kinney, author of the children's book series "Diary of a Wimpy Kid."