TJHS student receives "Spectacular, Super Special, Stand out Student Award"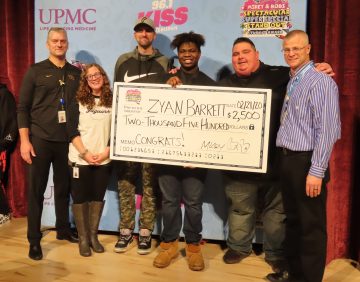 Thomas Jefferson High School Student Zyan Barrett was selected as the recipient of the 96.1 KISS FM "Spectacular, Super Special, Stand out Student Award."
Zyan was nominated by TJHS Teacher Kelly Miller for his work and leadership in creating the Multicultural Student Union at the high school. A special pep rally hosted by Mikey and Bob was held on February 21 to celebrate Zyan and present him with a check for $2,500!
This award recognizes and showcases students in a school or community that go the extra mile and have made a recognizable effort to help those in their community.
Congratulations Zyan, and huge thanks to 96.1 and Mikey and Bob for the awesome assembly!